Whale Watching Packages
During winter, humpback whales migrate from Antarctica to the warm waters of North-Eastern Australia to breed. It is estimated that up to 17,000 Humpback whales make the journey and around 10,000 whales deviate from their annual journey back to stopover in the Fraser Coast bay to rest and play.
Those who choose to be on the deck of the Hervey Bay Whale Watching fleet have the opportunity to be amazed and entertained by the up close stunning interactions with these gentle giants that will truly take your breath away.
Hervey Bay is known as the "Whale Watch Capital of the World" and is widely regarded as the best Whale Watch Tour location in the world for Humpback Whales. You will leave with amazing memories and even better photos.

---
The Fleet:

Tasman Venture: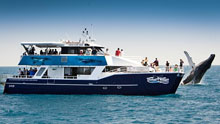 Local owners Lloyd and Robyn launched their carefully designed 20-metre catamaran in 2004. Built with respect for the specific local weather and ocean conditions this vessel offers speed and comfort while providing 6 spacious viewing decks including the bow, air-conditioned cabin, cockpit and underwater viewing windows.
---
Spirit of Hervey Bay: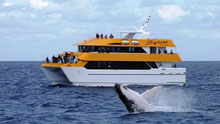 This family owned business launched their new 24-metre catamaran in 2008. The vessel was built for whale watching and was designed with stability, comfort and safety in mind. Fast and comfortable, the Spirit prides itself in its 6 viewing decks spread across 5 levels which allow personal space while on board.
---
Whalesong: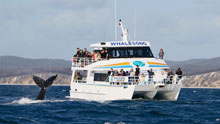 Sad to see their old boat retire but excited to reveal their new eco-friendly boat in 2012, The MV Whalesong was purpose built for whale watching and comfort. The Whalesong is licensed for 78 passengers but limits its numbers to 60 to ensure comfort and plenty of viewing space for all guests.
---
Blue Dolphin: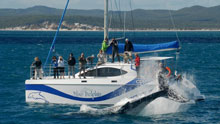 This luxurious 11.6-metre sailing catamaran is the only one of its kind in Hervey Bay. With the smallest of guest numbers, the Blue Dolphin gives a unique and personal experience priding itself in comfort and a true eco-tourism whale encounter.
---
Freedom III: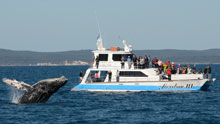 This spacious 17-metre catamaran was previously owned by documentary producer Ben Cropp and has recently gone through arduous renovations to include a fully licensed bar and sleeping quarters for up to 8 people. With a maximum number of 48 people, you'll never have trouble finding space to stand or sit while watching the whales.
---
Packages:
Package 1: 1 night accommodation + Whale Watching
2 Adults

Family (2A2C)

Room Type

Standard

Premium

Standard

Premium

Tasman Venture




½ Day

$314

$324

$424

$439

Spirit
½ Day AM
½ Day PM





$284




$274




$294




$284




$394




$384




$409




$399

Whalesong
½ Day AM
½ Day PM





$334




$314




$344




$324




$454




$424




$469




$439

Blue Dolphin




1 Day

$404

$414

$614

$629




Freedom III




1 Day

$324

$334

$464

$479
Includes:
1 night of accommodation in either a Standard or Premium room at the Urangan Motor Inn
Whale Watching Experience of your choice


Whale watching is available with other operators upon request
Free transfers for your Whale Watching trip to and from Urangan Motor Inn
Call (07) 4128 9699 or email enquiry@uranganmotorinn.com.au to book or if you require any further information
Package 2: 2 nights accommodation + Whale Watching
2 Adults

Family (2A2C)

Room Type

Standard

Premium

Standard

Premium

Tasman Venture




½ Day

$398

$418

$538

$568

Spirit
½ Day AM
½ Day PM





$368




$358




$388




$378




$508




$498




$538




$528

Whalesong
½ Day AM
½ Day PM





$418




$398




$438




$418




$568




$538




$598




$568

Blue Dolphin




1 Day

$488

$508

$828

$758




Freedom III




1 Day

$408

$428

$578

$608
Includes:
2 nights of accommodation in either a Standard or Premium room at the Urangan Motor Inn
Whale Watching Experience of your choice

Whale watching is available with other operators upon request
Free transfers for your Whale Watching trip to and from Urangan Motor Inn
Call (07) 4128 9699 or email enquiry@uranganmotorinn.com.au to book or if you require any further information
Other Packages Available:
2 or 3 nights of accommodation + Whale Watching + Fraser Island
Accommodation in either a Standard or Premium Room
Whale Watching Experience of your choice
1 Day Fraser Explorer Day Tour


Upgrade to Fraser Explorer Premium Tour will cost extra
Upgrade to Unique Fraser 4WD Tour will cost extra
Free transfers for all tours to and from Urangan Motor Inn
To book any of these packages:
Call (07) 4128 9699 or email enquiry@uranganmotorinn.com.au
Current tour prices will be quoted at time of booking